Agawam's Soldier On facility prepares to welcome veterans
10/5/2017 | Chris Maza
chrism@thereminder.com
Category: October 2017
Soldier On's new permanent housing facility in Feeding Hills offers previously homeless veterans new opportunities.
The nonprofit organization, which specializes in providing transitional housing as well as support systems for homeless veterans, recently unveiled its latest achievement – the rehabilitation of the former Western Massachusetts Regional Police Academy into a 51-unit living facility.
John Downing, president of Soldier on, and CEO Bruce Buckley gave Reminder Publications and Agawam Magazine the opportunity to tour the facility recently.
The building, originally constructed in 1916, has been completely re-fitted with 49 single-occupancy rooms on four floors. A new annex building includes an additional two fully-handicap accessible rooms and a state-of-the-art kitchen and dining area. Fully furnished, the 475-square-foot units include a television with basic cable that also converts into a computer with Internet access, as well as a refrigerator and microwave/convection oven and private bathroom.
Veterans pay a monthly rent of $844, which includes the utilities, cable and Internet. With veterans just beginning to take up residence in the facility this month, every unit is set to be filled by the end of the year with a 15-person waiting list.
Downing said. "Our real goal here is promoting a move toward independence."
To that end, Soldier On requires all residents to take part in its Life Skills Program. The program takes place in three five-hour sessions once a week and covers topics ranging from basic personal hygiene and meal preparation to substance abuse and mental health issues to financial literacy.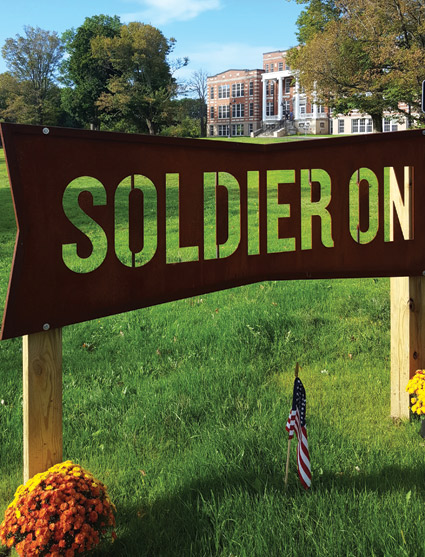 A case manager, who assists with financial and legal management, medical assistance, and service planning, works in tandem with a wellness director and psychologist to assist each veteran.
"If you've been homeless, there's a good chance you're not in great shape physically or even mentally. Living in those conditions ages you much faster," Buckley said. "It's not a quick process, but it is all part of what it takes to get these veterans to a place where they can embrace permanence and independence."
Downing added, "The average homeless person goes to the emergency room 60 times per year. Former homeless veterans we've served make those kinds of visits only four times a year."
In addition to the new annex, a courtyard behind the main building was built, complete with a gas grills. A bike rack and bus stop were also constructed, making the world off-campus more accessible.
The technological aspect is one that has been especially groundbreaking for Soldier On, according to Downing and Buckley. Through their unit's Internet services, residents can immediately contact and talk with their case managers or other support staff remotely through Skype. The computer also helps veterans with a personalized calendar and programs designed to aid in the management of their banking, Veterans Affairs benefits, and medical needs.
Soldier On facilities like the one in Pittsfield have illustrated that the support structure they have developed is working.
"These men never go homeless again," Downing said.
Of the 39 original veterans that moved into Soldier On's Pittsfield facility in 2011, 19 still reside there while nine others lived there until their deaths. Eighty-seven veterans moved into recently opened facilities in Leeds and Chicopee in 2016 and 81 of them are still there. Only one was evicted.
Those who do spend the rest of their lives in the facility have the option of being interred in its columbarium.
Downing explained when Soldier On participants passed away they usually were buried at the Massachusetts Veterans' Memorial Cemetery. However, many veterans expressed a desire to be able to have the ability to visit their friends' burial sites with greater ease. An eternal flame will also be lit.
Most of the residents, Buckley explained, have been involved with Soldier On previously.
"These veterans have worked with their case managers and they believe they are ready for the next step," Buckley said. "We want to make sure they are prepared for that next step so we are setting them up to succeed."
Even when deemed ready, the shift can be an emotional one, Downing said.
"When people move in, we usually get a lot of tears," he said. "It's overwhelming for some. The concept of, 'It's mine' can take a while."
For more information on Soldier On, visit www.wesoldieron.org.
Share this:
---