Eat.Enjoy.Live.: Vanished Valley Brewing – the little brewery with big aspirations
3/16/2017 | Chris Maza
chrism@thereminder.com
Category: March
In a tiny space behind Europa Black Rock Bar & Grill in Ludlow, big things are happening.
Into what looks like a small storage shed that once served as the chef's quarters when the restaurant was an inn, Josh Britton and Mike Rodrigues have crammed an entire brewery.
"We tore it down and built it back up from the ground up and then crammed a bunch of stuff into it," Britton said with a smile.
But don't let the operation's diminutive nature fool you. The two have grandiose plans.
"If we can produce what I think we can produce out of here in a given year, we'll go well above and beyond what the industry standard is for this kind of square footage. I'd like to get to 700 barrels in a year. That's still small, but given our size and our capacity, that's a lot of beer," Britton said.
A year and a half ago, Britton, who had been home brewing under the name Footbridge Brewing, and Rodrigues, the owner of Europa, were introduced through a mutual friend, hit it off and Vanished Valley Brewing was born.
"I had been looking to start a project for a year or two and lo and behold, Mike had been looking to do a project as well," Britton said. "We chatted and he loves to brew and I love to brew. When we initially met, it was kind of eerie just how spot-on our vision of what we saw from start to the pie in the sky was. Immediately I knew we had to make this work."
From there they formulated a plan and set it in motion, applying for licensing in February 2016 as they began building a brewery out of the old shed-like structure.
"We tore the whole thing down basically except for one wall," Rodrigues said. "Everything in here is brand new."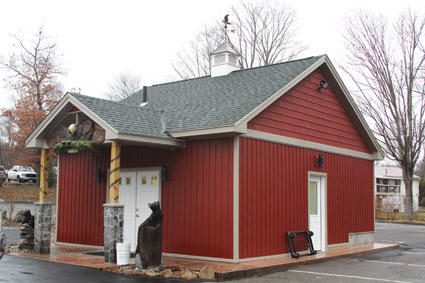 In addition to building a space, the two were also building their beer and perfecting recipes.
"We've been brewing in our garages – either his or mine – and brewing and drinking and brewing and drinking and all that good stuff," Britton explained. "We've been tinkering with certain recipes and most of them are pretty much done."
By October 2016, they had received their federal licensure, but it wasn't until January that they were approved by the state, which Britton admitted put them behind their original schedule. "That takes forever," Britton said of the licensing process. "You're sitting here and this stuff isn't cheap. You're sitting on money. It's a huge investment, so we're really excited to be getting out there. We can't get it out there quick enough because we're behind schedule on where we thought we would be, but we don't want to rush it either, obviously. We want to do it the right way."
Rodrigues said the company now plans on a full launch of its products in April.
In the meantime, they have put some of their beer on tap at Europa to a strong response.
"We started doing one tap handle at the restaurant and it just flew," Britton said. "It's been fun and between our work ethic and Mike's experience in the culinary industry and both our passion, we think we've got a good thing going."
The first beer to be introduced at the restaurant was Pomona, an IPA "jam-packed with Citra" hops, according to Britton.
"It's our take on the New England IPA, which everyone loves nowadays, including us," he said.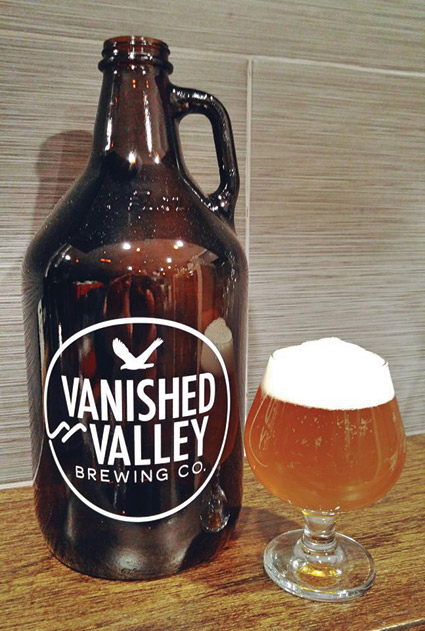 Vanished Valley will also feature another New England-style IPA called Watershed, which includes generous amounts of Mosaic and Simcoe hops. A pale ale called Take Flight is appropriately named as it features a sizeable helping of Falconer's Flight hops with some Simcoe. For the newcomer to craft beer, Britton suggests the Gon' Fishin' Kolsch.
"Gon' Fishin' is really light, crisp, easy-going, 5 percent ABV (alcohol by volume)," he said. "It's our take on not only the style, but we wanted to make an offering to those who are not those huge hopheads, but are thinking about the craft industry. It's more or less a bridge for those who are hesitant."
On the darker side, Vanished Valley will offer Lost Town, a chocolate milk stout flavored with cocoa nibs and Madagascar vanilla beans.
"Mike roasts the nibs at a certain temperature for a certain amount of time to give us the notes we want on them," Britton said. "That one takes a little bit longer to come out. We don't like rushing that, but it should be available in April."
Other beers will be developed as time goes on, he added.
"We're certainly going to branch off into other styles and our creative juices are always flowing," he said.
If you think you've noticed a theme in the names of the products, you'd be right. Most of the names, including the company's brand, are a hat tip to the Quabbin Reservoir.
"Vanished Valley was a take on the Quabbin area where we like to spend a lot of time during the spring and summer," Rodriguez explained. "I spent a lot of time in my youth and even now with my kids around there hiking and biking and I enjoy that area a lot, so this is something to recognize not only the area, but the people who gave up their land and houses for other people's benefit."
Vanished Valley will be available in the next few weeks on draft various locations in the Springfield, Amherst and Northampton area as well as Europa, Rodrigues said. Once the official launch takes place, the company will offer growler fills on site. Britton also said they would eventually like to branch into canning.
For more info on Vanished Valley, visit www.vanishedvalley.com or www.facebook.com/VanishedValleyBrewing.
Share this:
---