Local veterans find peace through combat sports
3/3/2017 | Chris Maza
chrism@thereminder.com
Category: March 2017
Combat sports as a means of stress relief for veterans?
It might seem counterintuitive, but it's exactly what's working for former members of the military at Harnessing Muay Boran at Asian Martial Arts and Core Fitness.
Vakny Chonmany, owner of the martial arts studio at 270 Main Street, has opened his doors to current and former members of the armed services for an hour of free Muay Thai training every Thursday from 5 to 6 p.m.
With large numbers of veterans returning stateside from military conflicts around the world, many of whom are suffering from the hidden mental and emotional scars of war, Chonmany explained he saw an opportunity to use his knowledge to their benefit.
Muay Thai is the national sport and cultural martial art of Thailand, also often referred to as Thai Boxing. Chonmany's program for veterans introduces the concepts of the sport to boost their physical and mental strength and stamina.
"It's not a full-blown Muay Thai. It's more of a health and fitness program using martial arts like Muay Thai," he said. "It's very basic and focused on giving them that sense of feeling good. We can customize that kind of training for them because we've been doing this for so many years. "
While an emphasis has been placed publicly on better serving the needs of veterans, Chonmany said he believes a big part has been missing – attention to the physical condition of veterans.
"We're trying to make a difference in the community be offering something unique and beneficial. It's something that's overlooked a lot. People don't really think that fitness is beneficial to veterans, but it is so important in a lot of ways," he said, explaining that in addition to obvious health benefits, being physically engaged can augment a person's confidence and self-esteem.
Many people, he pointed out, want to be in better shape, but either don't can't find the proper motivation, the right setting or the right direction in a traditional gym.
"It's a way to stay in shape without necessarily going to a gym," Chonmany said." A lot of people don't like going to the gym and a lot of them don't have anyone to work with and so they don't have any guidance like they get here."
Chonmany's program has been successful in aiding those suffering from symptoms of Post-Traumatic Stress Disorder.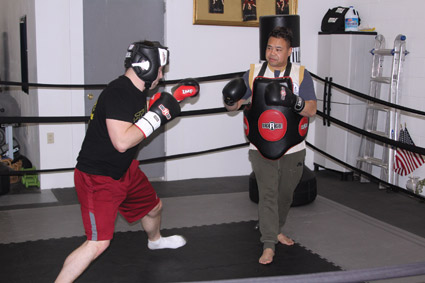 "I had a student with PTSD and I was moved by him and what he was experiencing," Chonmany said. "Working here was very moving for him because before he got here he couldn't work out, he was overweight, he had a kid, and he wanted to take better care of himself."
The manner of training, Chonmany explained, offers a familiar atmosphere that can help veterans bridge the gap between military and civilian life.
"A lot of them like this kind of atmosphere because it reminds them of military training. This makes a great connection and helps them as they get back into the civilian world because they have a place where they can discipline their mind and get their self-esteem back up through something they can relate to," he said.
"They were trained to fight, to kill, or save lives for the country. It's not like any other job. They went into it knowing they might get shot, they might get killed. This gives them an outlet and can take them back to the way it was in the military and why they chose to follow that life," he added.
Westfield resident and veteran Jonathan Eliza concurred, explaining that "veterans are coming who are coming back from Iraq or Afghanistan find that they get that same exact adrenaline rush from a sparring session" in a controlled environment.
Eliza also touted the benefits of having a "great mentor" like Chonmany, who he said could find and get the best out of anyone.
"Even if you have a slight interest in martial arts, he will take that and he will expand it. When I came to this place, I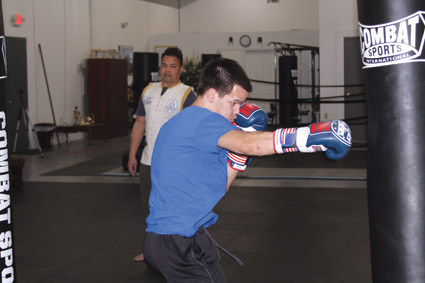 didn't want to spar. I didn't want to get hit in the face. Now I actually look forward to it," he said. "He takes every person who comes here and finds out what their goals are and capitalizes on it. He will train you like you were training for a belt. That's just how he is."
Eliza, who served for four years in the U.S. Air Force Security Forces, added the gym allows veterans a place to find the level of brotherhood they had experienced during military life.
"When I got out of the military, I had a close bond with a group of guys when I was in Germany and I was looking for something that could make me feel that camaraderie again with people," he said. "I found this place and I fit right in."
What's more, a gym setting offers an opportunity for returning veterans to engage with non-military members of the community in a place where they feel comfortable.
"It's a place where they can interact with and make friends with civilians as well in a familiar, safe setting and that can help soften the blow a lot of veterans deal with when getting back into civilian life," Chonmany said.
For more information on Harnessing Muay Boran and its program for veterans, contact Chonmany at 391-7302 or visit www.hmb.club.
Share this:
---