This park's gone to the dogs ... and that's great
5/4/2017 | Chris Maza
chrism@thereminder.com
Category: May 2017
It's mid-day on a beautiful spring Friday as the sun peeks between the clouds.
On nearby a bench two people sit and enjoy the sunshine while in the midst of light conversation. Elsewhere, a small group has congregated by a fence to socialize.
All the while, in the middle of a field, a pack of dogs race around and roll together.
It's the Agawam Dog Park.
Since it opened in 2015, the dog park has been a destination for residents with their canine companions for exercise and social activity. When asked about how the park has been received, Sue Drumm, president of the Agawam Dog Owners Group, had a simple response.
"It's been great."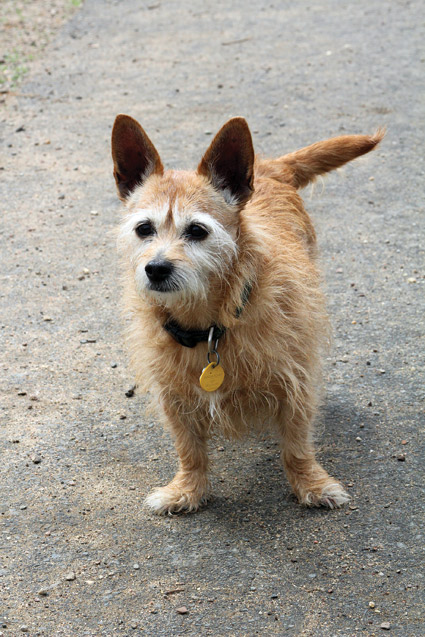 So great, it's become a selling point for some people considering relocating to the area.
"I moved to Agawam about four months ago," Susan Grossberg said. "This park was what convinced me this is where I wanted to live."
The product of an extremely involved process that included fundraising, the use of Community Preservation Act funding and a grant from the Stanton Foundation, the dog park could serve as a model for others in the area.
"A lot of people from the surrounding communities come and enjoy the park, not just Agawam residents, which is really nice," Drumm said. "I think that we've inspired West Springfield, who's hoping to put in a dog park next year. They came to us and we gave them information on how we achieved the Stanton Grants from the Stanton Foundation."
In addition to open areas for dogs to run and play – a large dog area and another for small dogs – the park has structures and obstacles on which the dogs can climb and play, water stations and waste removal bags. For humans, the park has benches as well as paved walking paths.
"People also use the park as exercise," Drumm explained. "[Parks and Recreation Director] Chris Sparks measured it out, so now you can know that a certain number of laps is a mile and you can exercise as the dogs are playing."
There were initial plans for additional play structures, but those have been scrapped, according to Drumm. The dogs' interest in the structures was not as high as anticipated and organizers have found they create safety concerns as they have proven attractive climbing spots for young children, who are not allowed in the park.
Drumm did admit that there was a transitional period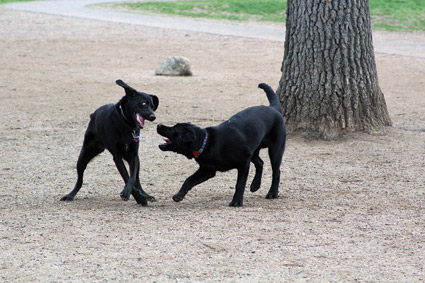 for the Agawam Dog Owners Group and the need for volunteers is ever-present.
"There's obstacles and there's always going to be issues with any kind of park," she said. "We need more volunteers who can help us clean up and change bags and fill stations."
The group meets once a month with its next meeting scheduled for May 17, 7 p.m. at the Agawam Public Library.
"It's been a challenge. Everybody has things going on," Drumm said of gathering volunteers. "People were really gung-ho when we were trying to get the park open and there was fundraising. Now that it's open, people feel their job is done."
With that said, she said she felt very fortunate to have a supportive board made up of Vice President Scott Milliken, Secretary Cheryl Barnhart, Treasurer Brade Jameson and At-Large members Anna Beard, Mary Ellen Kennedy and Dennis King.
"I'm a realtor, so I can't be here every day. I am constantly going," Drumm said. "I help by running the meetings and stuff like that, but it's our board that really does the hard work and are here every day."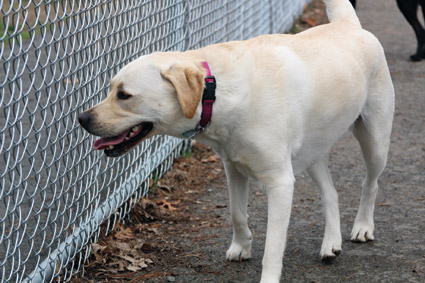 She added, "We also really have a great partnership with Parks and Rec. Chris Sparks is really good. Anytime we need something, he's right here."
The group's primary focus is no longer fundraising and has shifted to general upkeep of the park and enforcement of its rules.
Right now our goal is to reiterate the rules of the park, reminding people to clean up after their dogs and reinforce the age restrictions.
Those age restrictions prohibit children under 8 years old from entering the park and those under 16 must be accompanied by a parent. Drumm stressed that strollers and baby carriers are also not allowed.
"It's a safety concern and we want to make sure everyone stays safe," she said. "We certainly don't want to see a child get injured and owners have to be in a position to address a situation if there is a problem with their dog."
While not an active fundraising organization, the Agawam Dog Owners Group isn't an idle one either. Currently the group is formulating its plan to light the dog park.
"Chris Sparks is sending it out to bid. We're hoping that is done by September," Drumm said. "That was one of the biggest complaints that we had – in the fall it gets dark at 4:30 or 5 p.m. People still want to come because it's still nice out, but you can't see anything."
Drumm added she hoped the bids would come in at a level that the group would be able to finance the project without another campaign.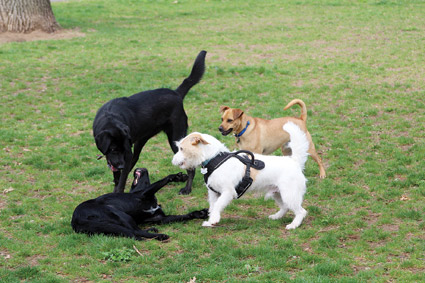 "We have funds in our account and we're hopeful we'll have enough between that money and maybe some that the town might kick in because we don't want to have to keep going back to our patrons and asking them to help us and support the park," she explained.
Those interested in making donations to the dog park can now do so right at the park, thanks to W.C. Rackliffe & Son Inc., who provided a theft-proof donation box located near the entrance of the large dog area. Envelopes are provided at the entrance of the park.
For more information on the Agawam Dog Park, visit http://agawamdogpark.com or its Facebook page, www.facebook.com/pg/Agawam-Dog-Park-137867986294230.
Share this:
---