Motorcycle run and toy drive helps local kids
10/12/2017 | Chris Maza
chrism@thereminder.com
Category: October
If you ask Bruce Rivest, Brightside for Families and Children gave him the greatest gift of all.
"In 1970, I was adopted through Brightside. If it wasn't for them, who knows where I'd be today?" he said. "They provided me with an amazing family."
Now he is helping give back to that organization that gave him so much by collecting toys for its children.
Six years ago, Rivest decided to take an active role in an annual tradition – the Hope for the Holidays Toy Drive and Toy Run for Brightside – and it's been rolling ever since. It's an event his family takes great pride and enjoyment in – especially his mother Diane Dolphin and his aunt Laurie Abert.
"My family comes out every year and supports this run and volunteers," he said. "My son is a big part of why I do this every year as well – to show him that people need help and unless you go out there and do something, then who is?"
He added, "I hope people understand just how important Brightside is. They take care of a lot of at-risk children, children who have been sexually abused, children who have been beaten. If it wasn't for organizations like that in the area, we would probably have a lot more problems in society than we do now."
While the toy run has been an annual event for more than 30 years, Rivest and Mel Hook of the Widow Sons Masonic Riders Association, with the help of Sgt. Bob Kough, president of the Legion Riders of American Legion Post 275 in Chicopee, have been the driving force behind the toy collection and charity motorcycle ride for the past six years.
This year's toy drive will take place on Friday and Saturday, Nov. 3 and 4, from 7 a.m. to 7 p.m. at the Wal-Mart in Chicopee on Memorial Drive.
"We really want to thank Wal-Mart because they give us their place over there every single year," Hook said. "If not for them, we wouldn't be able to do what we do."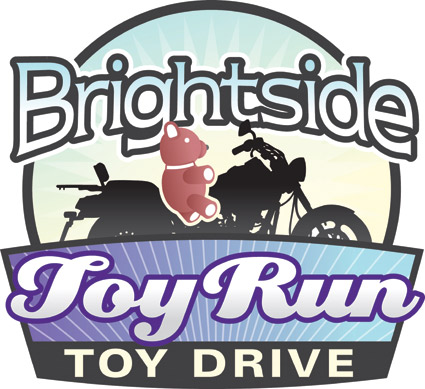 The ride will start at Wal-Mart that Sunday, Nov. 5. Registration begins at 9 a.m. with kickstands up at 11 a.m. An unwrapped new toy or gift is all that is required to ride. Riders will make their way through Chicopee, South Hadley and Holyoke to the campus of Providence Behavioral Health.
"This year Brightside has rolled out the red carpet for us," Rivest said. "Upon entering the hospital, they're going to have a giant balloon arch, they're going to have a stage and they're really going to go all out to help thank the supporters of Brightside."
When riders pull into Providence Behavioral Health, the original site of Brightside orphanage, children benefitting from the organization will be there to meet them.
"It's one of the really cool traditions associated with this ride," Hook said. "They will be holding signs and thanking us for what we do. They also serve us hot chocolate and cookies, which is something that all the motorcycle people really look forward to as part of the ride."
After the run, riders and the public are invited to an after party at the Moose Family Center 1849 on Fuller Road in Chicopee. The entry fee is $10, which also benefits Brightside.
Peter Newland and Radio Exile has served as the "house band" for the after party and returns this year for the event, which will be catered by ZZ & Company Barbeque.
"It's really the last big motorcycle run of the year," Kough said. "It always ends the motorcycle season, basically."
While the number of participants can very due to factors such as weather, Rivest and Hook said there has been strong support for the ride.
"Last year we had approximately 800 motorcyclists that came to the ride that day and at the after party we had approximately 300 people show up," Hook said.
Kough noted at one time as many as 3,000 bikes have rolled out for the ride. That day, as the first motorcycle arrived in Holyoke, the last bike was just leaving the Wal-Mart parking lot.
"You can read about it and stuff like that, but until you are out there and see thousands bikers and the people all around, you can't really appreciate it," he said.
Annually, two 30-foot flatbed trucks from Red's Towing are filled with toys.
"Our efforts last year got us nearly $14,000 for [Brightside] and the flatbed car haulers full of toys," Hook said. "But through our efforts for the last six years, they now have a surplus of toys at Brightside. So now they're not only able to give out toys to the kids at Christmas time, they are now able to give out some stuff at birthday times. That's a great thing."
Hook also noted there is a growing need for gifts for older children.
"This is for children ages infant to 18 years old," he said. "We want to make sure people understand that one of the biggest issues that we have is things for the older kids. We need some gift cards and things like that so we have something for the older kids."
The Legion Riders of Post 275 will again act as the lead group for this year's run.
"Not only will they be our frontrunners guiding the run, but they also spend the weekend with us at the Wal-Mart collecting toys and monetary donations," Rivest noted. "They come out in force. They've been with us for four years now and they've just been great to us."
The Sons of Mothers and Renegade Souls motorcycle groups will also act as blockers, helping to ensure the safety of the ride's participants.
The trio also noted a number of sponsors and supporters including Indian Motorcycle of Springfield on Southampton Road in Westfield, which acts as a satellite toy drop location.
"Dennis and his wife Flo have been with us since the beginning and we can't thank them enough for everything they do for us. They are our biggest sponsor," Hook said.
Ed from Magical Moments will be making balloon sculptures for children with a donation at the collection site Friday and Saturday. Peter Silvano of Custom Identity and Apparel donates T-shirts and is also an organizer. The Springfield Motorcycle Show and Connecticut Cruise News have been big supporters and sponsors as well, Rivest noted.
For more info, visit the Hope for the Holidays page on Facebook at www.facebook.com/brightsidetoydrive.
Share this:
---