Shriners Hospital builds upon its original mission
4/13/2017 | Chris Maza
chrism@thereminder.com
Category: April
Since the 1920s, Shriners Hospitals for Children have been providing essential care to the youngest and most vulnerable of our population.
They have also been constantly evolving.
When the doors opened at the Shiners Hospital in Springfield on Feb. 21, 1925, the mission was the treatment of children with polio. As polio was essentially eradicated, the hospital's focus shifted to its current role as a specialty hospital treating pediatric orthopedic and spine issues, rheumatology, chest wall deformities, neuromuscular cerebral palsy and cleft lip and palate issues with no restrictions on care due to an inability to pay.
And even now, Shriners keeps evolving.
When Lee Kirk joined the Springfield team as administrator in 2015, the hospital underwent a process of self-evaluation in collaboration with leadership from the Shriners Hospital system headquarters in Tampa and formed a new strategic vision.
"It was about re-investing in our core," Kirk explained. "It revalidated that there was still a need for what Shiners Hospitals for Children has historically done here. We needed to reinvest primarily through people and programs."
In "reinvesting through people," Shriners Hospital has welcomed a number of new faces in recent months, including a new chief of staff.
Dr. Jim Mooney took over as chief of staff, coming to Springfield from Charleston, SC, after Dr. David Drvaric retired this January after 24 years. A pediatric orthopedic and spine surgeon, Mooney spent the past 11 years at the chief of the Division of Pediatric Orthopedic Surgery at the Medical University of South Carolina.
While retired, Dvraric is staying involved with the hospital, managing its monthly limb deficiency clinics.
Also, in 2016, Dr. Prerana Patel joined the staff as a pediatric orthopedic and spine surgeon and Dr. Rubini Pathy came on board later in the year as a pediatric orthopedic surgeon. Sarah A. Durgin, a physician assistant with extensive experience in pediatrics and Keri Garry, a nurse practitioner, were brought into the fold.
Dr. Larry Kaplan, another new physician, has provided a "unique skillset" as a developmental pediatrician, according to Kirk.
"His credentials are amazing and he's a key part of the delivery team here," he said. "He's broadened the scope of care a little bit. There's a lot of autism out there and kids who have concussions and things like that as well as other developmental issues. His practice has filled up very, very quickly."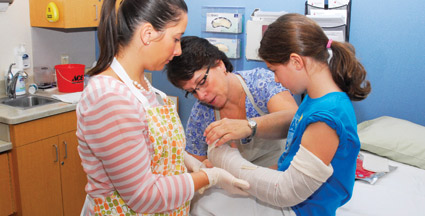 The utilization of Kaplan's distinctive specialty is a perfect example of how the hospital has leveraged its assets to better meet the needs of the expansive area it serves, which includes Western Massachusetts, New England and upstate New York. During the visioning process the hospital's leadership discovered opportunities to serve and has in turn expanded its offerings.
A post-acute fracture care unit for children who had already been to an emergency department or urgent care center but needed more attention opened in September 2016.
"Particularly the physicians in the area, when we went out and asked what they needed, that was the No. 1 thing by far," Kirk said. "Five to 10 percent of the patients need surgery. Others need things like casting."
With the only pediatric orthopedist in the area, Kirk explained the program fills a very real need to address broken bones in children.
"Kids aren't just little adults," he said. "They have special needs, especially when you're dealing with bones that still have growth plates in them and special things like that."
In February 2016, the hospital also hosted its first outpatient pediatric urology clinic at the request of a group of pediatric urologists from New York and Connecticut.
"These are the only pediatric urologists in our community and our region," Kirk said of the clinic. "A lot of people would have to leave the area and go to Boston and other places to receive this care."
He added the clinic also serves some children already being treated at the hospital for spina bifida, as often there are resultant urological issues. There is also a population of young people who struggle with kidney stones.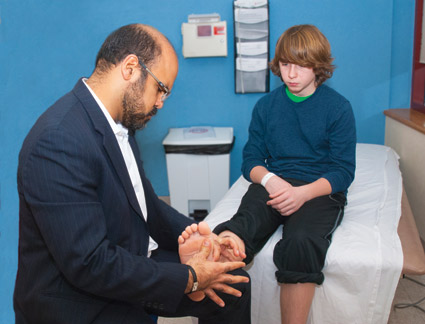 Also, in collaboration with the Baystate Health network, Dr. Julio Martinez initiated a sports medicine clinic this January.
"It was another need that was identified particularly for younger children and children who have complex medical conditions," Kirk said. "Most kids are involved in sports in some form or fashion so our intention is to be a resource for education and helping families, coaches and children know what they need to do to prevent injuries, but then to have a special referral option for children that have sports injuries."
Collaborative efforts are "key components" to the hospital system according to Kirk and in addition to continued work with "sister hospitals" within the Shriners system, bolstering partnerships with Baystate Health and Connecticut Children's Hospital, is another focus of the hospital's strategic vision. Kirk explained Baystate partners with Shriners for its anesthesiology care, radiology, laboratory and pharmacy services. Pediatric general surgeons from Baystate Medical Center perform procedures for chest wall deformities and Geneticist Dr. Mary-Alice Abbott offers her services as part of the cleft lip and palate unit.
Shriners utilizes the services of four pediatric sub-specialists from Connecticut Children's Hospital as well and also partners with that organization on research efforts.
The hospital also has affiliate relationships with Boston University and Albany Medical Center, hosting one orthopedic resident from each a year.
"Seventy-five percent of all orthopedic specialists have done part of their training in Shriners Hospital for Children," Kirk said. "They come here to get the pediatric component of their general orthopedic training. They get a very good experience here and that's a key component of our mission."
Looking to the future, more additions are on the horizon. The Springfield hospital plans to repurpose one of its two inpatient units to add inpatient acute rehabilitation in 2018. Children in this unit would need focused rehabilitation – physical therapy, occupational therapy and speech therapy – for at least three hours a day, five days a week.
"There are two units like this for kids in Massachusetts and they both are in Boston," Kirk said. "For kids with injuries or complex orthopedic issues or brain injuries or spinal cord injuries, the intention is two fold – that their disability or other issue does not worsen, and their functionality improves through that intense rehabilitation."
The hospital also plans to begin utilizing Nobel Prize-winning technology with EOS, a groundbreaking piece of medical imaging equipment.
"Our children, the ones with complex spine and muscular issues and limb deficiency issues, they have X-rays, many of them, throughout their childhood from the time they're infants through adolescence," Kirk explained. "They benefit of EOS for those children is two-fold. The quality of the imaging because of the technology is improved, but the radiation exposure is only 1/9th of traditional X-rays and a lot less that traditional CT scans as well."
That piece of equipment is available to the hospital through a successful capital campaign that helped raise more than $960,000.
That level of support, Kirk said, is something not unusual for Shriners, but unique in the health care world.
"A lot of hospitals don't have 1 million Shriners who are very, very passionate about raising money for children," Kirk said. "There are also private groups that are very generous in raising money for us. This hospital had over 12,000 individual donors last year. In 2015, that number was 10,000. Shriners Hospital for Children is just known as a very worthy recipient of people's donations."
For more information on Shriners Hospitals for Children's Springfield location, visit www.shrinershospitalsforchildren.org/Locations/springfield.
Share this:
---