Bruce Landon: 'I'm certainly very grateful, very honored'
Category: March
At three years old, he started playing hockey at his Canadian home. At 20 years old, he was drafted, and moved to Springfield. At 28 years old, he injured his knee, retired from professional hockey, and transitioned from the ice to the office. Now, at 68 years old, Bruce Landon is retiring, and was inducted into Springfield's Hockey Hall of Fame on March 3.
Landon has been involved in hockey for his entire life. He started playing the sport at a young age, working his way up from youth hockey associations and junior hockey, to every hockey players dream: being drafted into the American Hockey League (AHL). In 1969, Landon was drafted by the Los Angeles Kings, playing for their minor-league affiliate, the Springfield Kings. Following a three-year stint for the Kings, Landon made the switch to playing for the New England Whalers. After playing for the Whalers for five years, Landon moved back to Springfield for what would be his final year in the AHL.
What may have looked like a career-ending knee injury was only the beginning for Landon.
"I was raising a young family, and I said, 'You know what, I've had too many injuries to keep trying to play hockey.' I went into the front office in December of '77 and I was able to learn everything that had to with the business side of the hockey, and I've been there ever since."
While Landon hadn't planned on ending his hockey career at such a young age, the switch to working for the Springfield Indians kept him involved in the sport he loved. "The biggest thing for a hockey player when he leaves the ice is he's sort of not connected [to the sport] anymore. Even though I was in the front office, I still felt part of the hockey organization. I'm one of the lucky guys who can say I've been going on 48 years in hockey, and there isn't one day that I haven't enjoyed it," Landon adds, "If you can find a career like that, it's pretty rewarding."
In 1994 when the Springfield Indians were sold and left the city, Landon was instrumental in the establishment of the Springfiel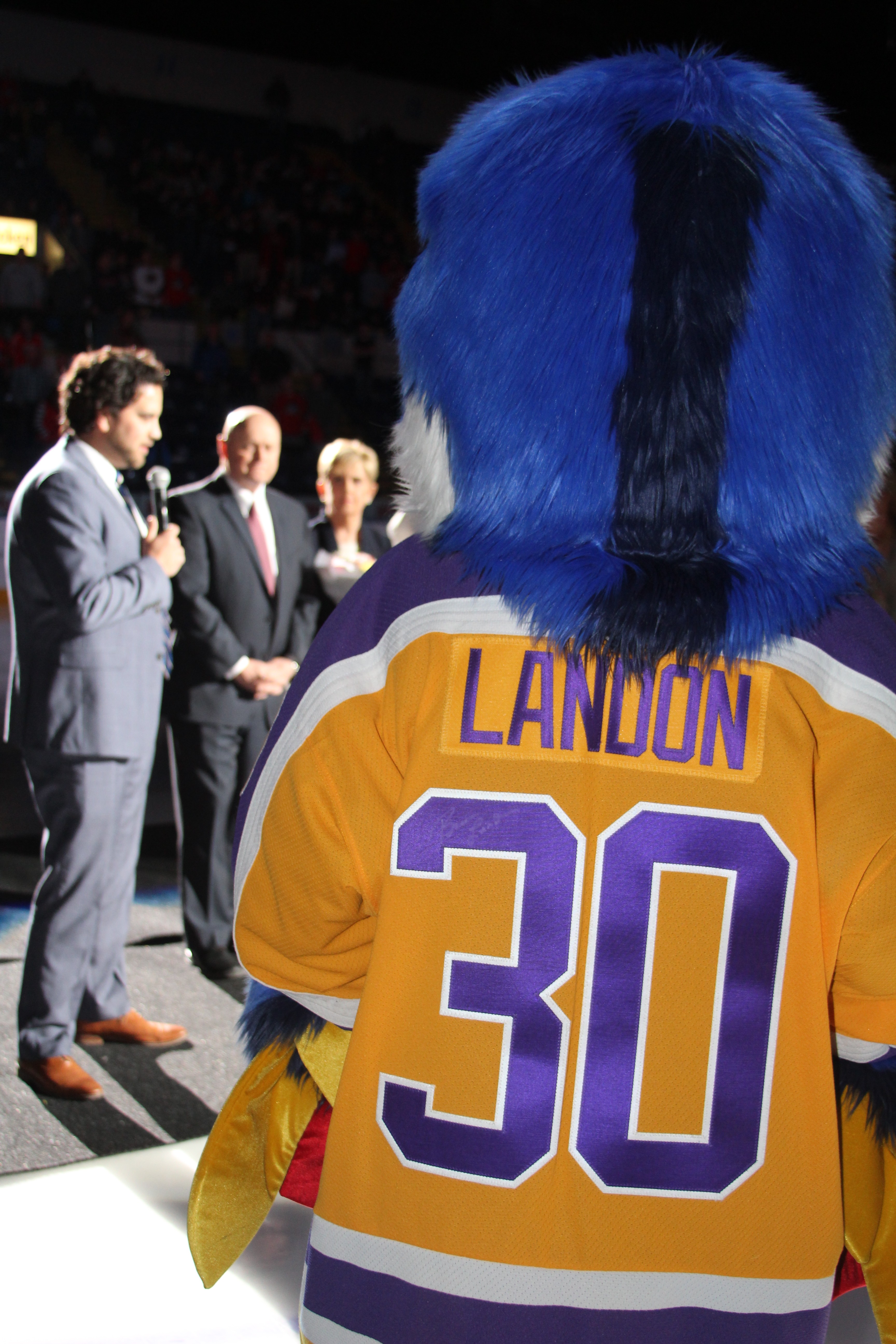 d Falcons and he was president, general manager, and co-owner of the team until 2014. He decided he wanted to step down from running day-to-day operations of the Falcons, and get back to being involved the game itself, being named the director of hockey operations.
Once the Falcons moved to Tucson, AZ, in 2016, the Thunderbirds arrived. Recognizing the wealth of information Landon obtained, he was named a senior consultant for the team. "I came in to help the new management team and the ownership group to get through the growing pains of starting a franchise because it was new to them. Everything seems to be falling into place, and there's really no need for me anymore. They've got a great management team in place, they've got a great ownership in place, and they're going to do a good job. There's no question in my mind, they're going to sustain it."
With a goals against average of 3.47, earning multiple awards including the AHL's Ken McKenzie Award as the individual who best promoted his team and the James C. Hendy Memorial Award as the league's top executive, as well as leading the Springfield Indians to two Calder Cup championships, Landon is a well-decorated man. He's been inducted into both the AHL Hall of Fame and the Massachusetts Hall of Fame. However, Landon's high-ranking accolades don't dull his excitement to be inducted into Springfield's Hockey Hall of Fame.
"It's an honor. Whenever you get those kind of accolades it's humbling; I'm certainly very grateful, very honored. I appreciate all the work and effort the ownership group and the staff has put into this night."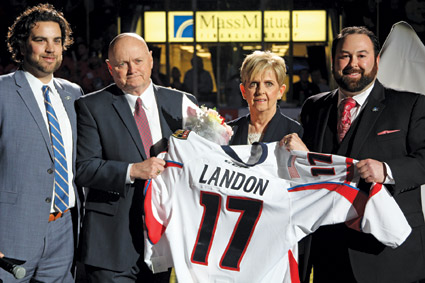 Though Landon is honored by his awards, he wants to be remembered for other reasons. "The ultimate goal of making sure professional hockey stayed in Springfield was dear to my heart; I want to be remembered as a guy who worked hard to see that that could happen. I was very fortunate because that didn't happen just by me alone – it was great staff that worked with me, ownership groups that I was able to put together that supported me and believed in what I was trying to do. I'm very fortunate, I had a great career, and I can walk away knowing that professional hockey is going to be here."
Stepping back from his responsibilities with the Thunderbirds, Landon's happy to have free time to spend with his family, including his grandchildren who both play hockey as well. One would guess Landon gives his grandkids pre-game advice, but that's not the case. "I go as a grandfather and spectator; whether they win or lose or how they play, I just enjoy standing up there and watching them. The only advice I ever give them is to go out and have fun," Landon said. "If you're having fun you'll grow and become a better player because you're enjoying it."
On the brink of retirement and the end of an era, Landon is content with having no plans for his retirement. The Springfield Hockey Hall of Fame honoree is looking forward to kicking-back, relaxing, and becoming a true spectator.
Share this:
---