Welcome to Calabrese Market
Category: March
Just a quick drive over the North End Bridge into West Springfield sits Calabrese Market and Deli, a family owned Italian shop that features an extensive panini menu, home-cooked pre-made meals and a whole lot of nostalgia.
After 30 years of being a convenience store, husband and wife, Tony and Gina Calabrese took over the 54 Park Street location in 2015. While the couple has owned the building for about 20 years, they stepped in when their tenant who was running the convenience store wanted to retire. The Calabreses proposed a plan to turn the store into a market and deli, selling family-style meals, unique paninis, fresh salads, homemade soups, and gourmet grilled cheese melts.
"There was nothing like this in town. It's something different; plus, we didn't want to compete too much with Mama Mia's. We felt that there's pizza shops everywhere now, so we figured it had to be something like this, and we wanted to take a shot," Gina said.
The two ran the convenience store for a year while simultaneously pushing local legislators to approve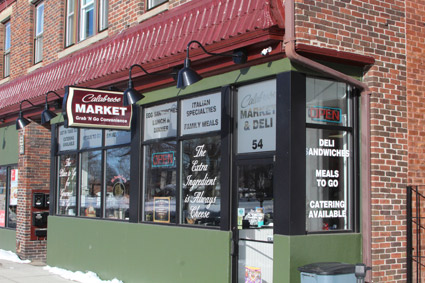 their plans. "We didn't realize what it entailed as far as zoning and everything. It's a historical district because of next door, the [Josiah] Day House is there. Then, the Town Hall was going through a mayoral change," Tony said. Gina added, "It went from planning to zoning and there were parking issues, I mean, they threw everything at us under the sun."
Running the storefront as a convenience store wasn't paying off for the pair. Customers came in for Keno and lottery tickets for the most part, as there were two Cumberland Farms located within close proximity dominating the scene.
In June of 2016 the Calabreses decided to close the convenience store, and quickly put up "Closed for Renovations" signs. "We just saw the writing on the walls. It was a lottery spot, we figured with the casino coming, lottery would be getting slower," Tony said. "Being the owner of the building, we had to look down the road and see what was coming."
After three months of closed doors, the pair's plans were approved by both the Planning Board and Zoning. "I think us closing put a little fire in them [the city] because they don't want to see something closed. [Mayor] Reichelt is very pro-small business," Gina said.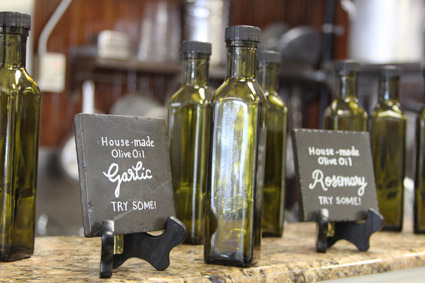 Though its only been open for just over a month, business is booming for Calabrese Market and Deli. Locals have been flocking in for their lunch breaks or to purchase dinners for their families on their way home from work. "It's been amazing, we're actually amazed. They're coming in and buying tuna by the pound – it's insane," Gina said. Tony added, "A lot of people pick up meals for home. We have lasagna, eggplant towers, it changes daily. For Lent on Fridays, we do some sort of cod."
It's clear that both Gina and Tony take pride in the work that they do and the food that they create each day. Considering such a vast and well-thought menu, it's difficult for visitors to pick just one item to test. Gina is partial to one of their gourmet grilled cheese melts, the green goddess. "It's spinach, avocado, ricotta, and mozzarella, but you add bacon and it's so good."
A true family-run business, the Calabreses' daughter Brianna, 22, and two sons Anthony, 20, and Vincenzo, 17, all work at the market as well. With a focus on a welcoming atmosphere, mouth-watering cuisine, and creating a relationship with the West Side community, Calabrese Market and Deli is a place every foodie will adore. For hours of operation and to check out the storefront's menu, go to calabresemarketma.com.
Share this:
---